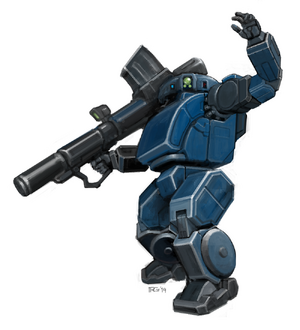 The Web Community for players and builders of Mobile Frame Zero has a still growing but flourishing internet presence; just check out these websites for more information on the game or inspiration for your next mobile frame build!
The Home PageEdit
Mobile Frame Zero: Rapid Attack -- The official home-page; purchase or download the rulebook here!
This is the main trio of websites where the majority of conversation about MFZ is taking place.
Active Blogs
No BS, Just ABS -- The grand-daddy of MFZ blogs.
Mechaton @ Divnull -- Wordman created all the instructions for building frames in the MFZ rulebook.
Tabletop Terrain -- A blog by c0d3monk33 with several articles about MFZ.
Xenoglyph -- The official website of MFZ writer/creator Joshua Newman.
Anyway. -- Search this board's archives for "mechaton" to seen the birthplace of the game.
Dead Blogs
Blogs officially discontinued or haven't been updated in over a year but are still available to peruse.
Dices Are Not For Eating -- You want to do rule mods? Read here first.
Orion 6 -- Blog by builder Greg Strom aka mitteninja.
XG5 Systems -- A blog by XGundam05.
Bots of Westeros -- The blog version of the old Tumblr site.
Mechaton @ Attacks of Opportunity -- A few alternate rules.
Tyrona -- An alternate setting for MFZ.
MF0 IRC blog -- A blog that covers the discussion on the MFZ IRC channel.
Cheap MFZ -- Mobile Frame Zero for those who have more time than money.
Mechatonic -- large archive of MFZ content.
Message BoardsEdit
Toys N Bricks -- If you are interested in LEGO deals, you should be here.
Barf Forth Apocalyptica -- Vincent's message board.
MFZ @ Something Awful forums -- Looks like there was some conversation going on here.
PinterestEdit
Badass MoF0 Mecha Frames -- Another Pinterest site.
Lego  -- Another Pinterest board with MFZ scale lego mecha.
MFØ -- Another.
Mobile Frame Zero -- and another.
Mobile Frame Zero: Lego Mechs -- and yet another.
Minis-Mobile Frame Zero -- Another!
Lego -- A Pinterest page by M.J. Bauer, of C6 fame.
Robotix -- This contains non-LEGO images but looks to be full of interesting pictures.
Bots of Westeros -- Combining MFZ with A Game of Thrones.
Tagged/Mobile-Frame-Zero. This is a Tumblr that Carbonbass has posted a lot to.
Drawn On Phone -- This one features a bunch of WiPs.
The Transit Gate: A Mobile Frame Zero Podcast -- Dexter Schiller, Ian Porter, and Greg Strom talk about all things MFZ.
Captain's Challenge 4 -- A short Youtube video showing off a couple of MFZ scale mechs.
Captain's Challenge Day 5 -- Apparently there's a sequel.
An interview with Malcolm Craig & Joe Murphy.
Here's a whole game from Ced23ric on the Hangar.  It is in German though.
Here's an animated view of one of Ced23ric's frames.
Here are a few from a young kid.  He sounds pretty enthusiastic.  Give 'em a look:
General SitesEdit
Mobile Frame Zero: Rapid Attack Kickstarter -- The Kickstarter that launched Mobile Frame Zero. There's some great conversation here.
Mobile Frame Zero: Intercept Orbit Kickstarter -- The Kickstarter for the upcoming spaceship combat module for Mobile Frame Zero.
Mobile Frame Hangar -- A source for LDraw files.
MobileFrameHangar -- Group page on DeviantArt for MFZ builds and art.
MFZ:RA Commander's Handbook -- An excellent online player's aid for MFZ: Rapid Attack; the web app is optimized for mobile & tablet but will run on any recent web browser.
FullBroadsides.Com/MobileFrame -- It's one page with a few pictures and a brief mention of MFZ.
And a random Imgur post about building forces for MFZ.